KZK White Line - the Renewed Version of KZK K78-34 - Russian Audiophile Capacitors for Speaker Crossovers
● Metallized polypropylene film axial HiFi audio capacitors(MKP) for DIY
loudspeakers crossovers, audio applications, signal coupling, filtering,
bypassing and power factor correction applications, tube and solid-state
amplifiers, phono stages; non-polarized capacitor;
● Hermetically sealed polycarbonate tubular case, tinned pure copper leads;
● Made by ISO 9001-2011 certified professional manufacturer;
● Precision matched couples;
● Designed and assembled in Russia;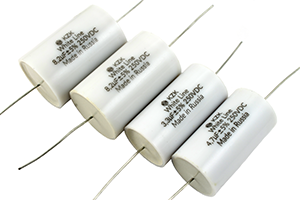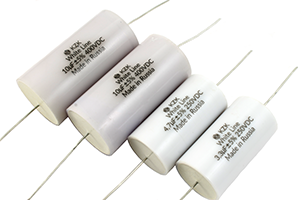 Build brand new crossovers from the scratch or replace electrolytic speaker capacitors; repair/upgarde your vintage JBL, Tannoy, Altec crossover networks
● Superior replacement for paper/wax capacitors in tube electronics;
● Best tweeter filter capacitor in car audio; excellent as midrange crossover
capacitor;
● 2 weeks break in period is recommended;
● All capacitors undergo a 15-minute proof test to voltages 50% higher than
their normal working voltage;
Highly Recommend by Humble Homemade Hifi Capacitor Test
Full bodied, slightly warmish sounding capacitor with a very smooth top end(c)
Tony Gee's review.
Wide Values Range for Speakers Crossovers and Audio Amplifiers
Voltage rating: 250, 400VDC. Values from 1 to 100uF. We match the couples for free.
Free Samples for Loudspeakers Manufacturers
Samples are the perfect way to try our capacitors and maybe even find your next favorite supplier.
Worldwide Shipping
EMS Post or Economy International shipping with tracking are available. We ship during 2 business days from Moscow. Paypal payments only.
How To Buy
TO PURCHASE KZK WHITE LINE , PLEASE CONTACT US DIRECTLY FOR QUOTATION OR VISIT OUR EBAY STORE. WE SPEAK ENGLISH AND RUSSIAN.
E-mail: sales@deskfi.ru
If you have any questions or enquires, please do not hesitate to contact me.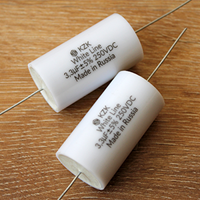 -------------------------------------------------------------------------------------------------------------------------------------------------------------
Reviews
Aril N., Norway
I have been testing the White Line capacitor you sent me. To be short: This was quite a revelation!
I will be writing about my findings concerning this capacitor in some media soon. I will send you links to my write-ups.
These 1,5uF 400V capacitors are sitting in series in my 12dB/oct tweeter-filter. They are parallelled with a 0,47uF russian FT3 teflon capcitor. This combination exeeds EVERYTHING I have ever tried. I have really tried a lot of diffferent capacitors here ... Your White Line 1,5uF/400V are superior. Shading of tones, perspective, fine cues and details, air, naturalness and holography are ther in a way not heard before! Everything becomes more "real" and palpable. More fabric and substance, combined with fine details and high resolution whithout any form of glare.
Read the full review at DIYAUDIO.COM
Luke., Poland
This caps seems to be exactly what I was hoping to get! The sound is so full and smooth, yet they produce great airy transparence and holographic stage. So much better dynamics and definition in the whole spectrum and still it is 100% musical. It feels like they are perfectly neutral and balanced. Works far better than Mundorf Supreme with my Epos ES11. Still waiting for Mills resistors to complete the upgrade. Thank You for good quality stuff.